Connect with Zion's Prayer Ministry, such as Prayer Team, Prayer Requests, Prayer Chain.
*We are fortunate to have many opportunities for involvement in praying in the life of our congregation. (Not all opportunities are currently available due to COVID-19 restrictions.)
Zion Prayer Ministry is part of our life together at Zion. We are thankful to be intentional in our prayers as people of God. We are fortunate to have many opportunities for involvement in praying in the life of our congregation.
Christ care prayers begin all Zion activities.
Prayer requests may be submitted online here.
At least one of Zion's ministries is prayed for each week.
The Joshua men's group meets regularly and prays daily for our Kid City children.
Prayers of healing are held during worship on the fifth Sundays during the year.
Family Table and Family Promise participants are invited to submit green prayer cards.
Contemplative Prayer opportunity is offered the second Sunday of each month at 5 p.m. All are welcome to attend.
The chapel is always open as a place to pray.
A prayer panel is in the chapel and you may light a candle for prayer for a loved one.
The Zion Prayer Ministry Team is at the core of our prayer ministry. This prayer ministry has eight volunteer teams each consisting of five members who offer your concerns and joys in prayer each Sunday at 11:00 a.m. All prayers are held strictly confidential. Each weekend 25 to 50 requests are submitted on the green cards. We have been averaging yearly about 1700 different requests. What a powerful ministry! We have added prayer boxes in the chapel and at the front desk where you may place a prayer request at ANY time and the prayer team will pray on your behalf each Sunday. 
We are thankful that Zion entrusts their prayer concerns and joys to the prayer team and we feel honored to pray for all of them knowing that God continues to work in and through our prayers and our life together. We welcome any suggestions and invite your participation. Please prayerfully consider sharing in this ministry. For more information please contact Pastor Sue Wallager at: swallager@zionanoka.org.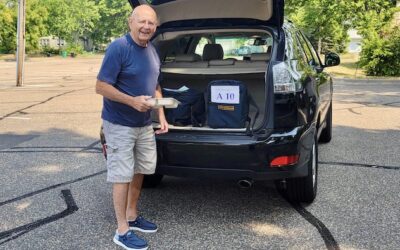 Zion partners with area churches driving for Meals on Wheels and we take our turn every 6 weeks. There are 7 routes requiring a total of 35 volunteers each week.
read more
Category: Adult Announcements