Connect with Zion's Prayer Ministry
*We are fortunate to have many opportunities for involvement in praying in the life of our congregation. (Not all opportunities are currently available due to COVID-19 restrictions.)
Zion Prayer Ministry is part of our life together at Zion. We are thankful to be intentional in our prayers as people of God. We are fortunate to have many opportunities for involvement in praying in the life of our congregation.
Christ care prayers begin all Zion activities.
Prayer requests may be submitted online here.
The Zion Prayer Ministry Team is at the core of our prayer ministry. This prayer ministry has eight volunteer teams each consisting of five members who offer your concerns and joys in prayer each Sunday at 11:00 a.m. All prayers are held strictly confidential. Each weekend 25 to 50 requests are submitted on the green cards. We have been averaging yearly about 1700 different requests. What a powerful ministry! We have added prayer boxes in the chapel and at the front desk where you may place a prayer request at ANY time and the prayer team will pray on your behalf each Sunday.
We are thankful that Zion entrusts their prayer concerns and joys to the prayer team and we feel honored to pray for all of them knowing that God continues to work in and through our prayers and our life together. We welcome any suggestions and invite your participation. Please prayerfully consider sharing in this ministry. For more information please contact Pastor Sue Wallager.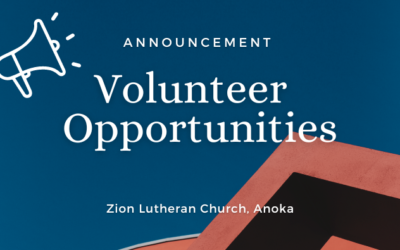 Help Zion's Pre-K with Box Tops for Education. It's easy to do, no clipping or searching. Use the Box Top app or drop off your receipts at the Zion front desk.
read more
Category: Adult Announcements