"Welcome Home" to Zion Lutheran Church. We look forward to worshipping with you either in-person in our Sanctuary or virtually through our livestream options. Please note that when inside our building we ask that you wear a mask. Join us either on Saturday evenings or Sunday mornings as we gather to worship our Lord and Savior Jesus Christ. – Pastor Brent Campbell
Worship Schedule
IN-PERSON AND ONLINE
Saturday 5:00 p.m. – Traditional Worship
Sunday 8:00 a.m. – Traditional Worship
Sunday 9:00 a.m. – Traditional Worship
Sunday 11:00 a.m. – Blended Worship
Broadcasts of our worship services are streamed live below and on our Worship Online page.
CABLE TV – MCN 6
Saturday 5:00 p.m. – Traditional Worship
Sunday 10:00 a.m. – Traditional Worship
Sunday 5:00 p.m. – Blended Worship
RADIO BROADCAST 106.1 BOB-FM
Sunday 9:00 a.m. (live)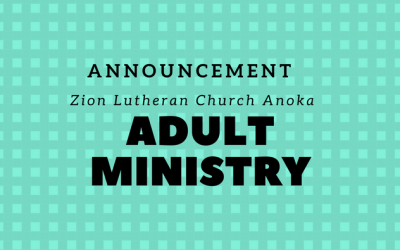 Join Pastor Dixie Johnson (retired) as she facilitates this study by Michael LeFebvre, Thursdays Jan 20-Feb 24 at 11 a.m. in the Fellowship Hall. Study guide is available for purchase at the front desk.
read more
Join the Conversation
The best way for you to stay up to date with what's new at @Zion_Anoka is to join the conversation on Facebook, follow us on Twitter, subscribe to our Newsletter, and check our website and public calendar regularly.
The Church office hours are:
Monday to Thursday from 9:00 am to 5 pm, and Friday from 9:00 am to noon. Phone: 763-421-4656
Follow us on social media here: