A Welcoming Faith Community.
Growing. Caring. Serving.
Welcome
Welcome to the website for Zion Lutheran Church of Anoka. Zion is a large congregation that has the feel of a small Church. You will find it easy to become plugged into the many opportunities to grow in your faith and to make a difference in our world.
Zion's core values are to Welcome, Worship, Grow, Care and Serve. These values shape all that we do at Zion. Please take a few minutes to browse our website and learn more about the many opportunities to grow in your faith and to do God's work with our hands!
We are glad you are here. We look forward to meeting you!
Pastor Brent Campbell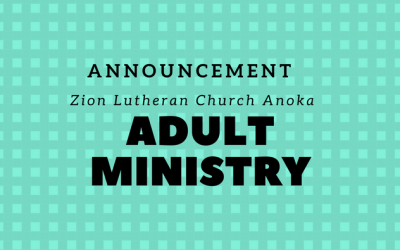 Education isn't just for youth! Sunday mornings we have adult forums at 9 & 10 a.m. in the Fellowship Hall. Join us on Sept. 22 as Dr. Bob Albers presents part two of his series "Grief and Loss".
read more
Worship
Zion Lutheran is a community with room for everyone, and all are welcome. Whether you're checking out church for the first time or returning after sometime away, we have a place for you. Saturday night and Sunday Morning Services are the main event, and we invite you to join us. Come as you are asking as many questions as you have.
Learn More
Live Stream
Whatever may be in your heart, no matter how big or small, someone is waiting to stand with you in prayer.
Being a part of a ministry, Bible study, service opportunity or Life Group is a great way to grow in faith and connect with one another. Whether you are a Zion member or not, explore the many different Life Group options today!
Ken Johnson
Visitation Minister
The Herald
Subscribe to our monthly Church Newsletter!
Welcome Events
An overview of Zion's Welcome Events. All are welcome at Zion Lutheran Church.
Life Together
Zion Lutheran Church Sign In. Life Together Login and Account Sign Up.
The Zion Daily Calendar
Check out our public calendar to keep up to date on Worship times and our various events.
Sermons on Soundcloud
Zion Lutheran Church, Anoka
Featured Zion Videos
God's Work, Our Hands - See How Zion is Making a Difference!
Click on a video to play. To view in full screen mode, click on the full screen icon at the bottom right of the video. 
Join the Conversation
The best way for you to stay up to date with what's going on @Zion_Anoka is to join the conversation on Facebook, follow us on Twitter, subscribe to our Newsletter, and check our public calendar regularly.
The Church office hours are Monday to Friday from 8:00 am to 5:00 pm. Call or come by for a chat. Phone: 763-421-4656
Follow us on social media here: