Children's Ministry
Welcome To The Children's Ministry at Zion Lutheran Church.
Our heart's desire is to introduce children to our Lord and Savior Jesus Christ and the life changing power of his Gospel of grace. Jesus said, "Let the children come to me and do not hinder them, for to such belongs the kingdom of heaven" (Matthew 19:14). We want to make disciples of children who are transformed by the Gospel and learning to serve Christ, others, and the world.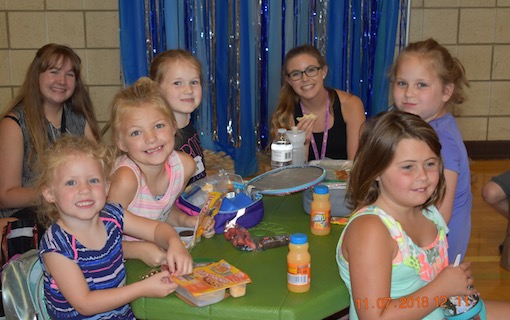 Summer Kids' Camps Announcement
Due to the continuing COVID-19 concerns, we revamped our 2020 summer children's ministry program. Instead of traditional day camps, we're offering an EASY, exciting, family-based Vacation Bible School! See below for details.

The Blessing Bus
Online, Curbside Pick Up, Family Fun VBS!
Register Now!
Curbside supply pickup starts June 7! – Activities begin June 15!
WHO: Families with kids age 3-Grade 5! Tell your friends!
WHAT: A home-based VBS with all your favorite fun stuff!
ONLINE VIDEOS: Silly skits, rocking songs, Bible studies, prayers, crafts, games, service ideas, science and story time! Cameo appearances by your pastors (human and puppet), CYF staff, summer interns, kids ministry leaders, parents and kids!
LIVE ONLINE GATHERINGS: Sharing, fellowship, and human contact!
BLESSING BUS TOTE BAGS: For each child with instructions, supplies, music CD, etc.
WHEN: Register now at Events – The Blessing Bus
Sundays June 7 & 14: Pick up supplies, 10-11 a.m. and Noon-12:30 p.m. in the upper parking lot.
Monday, June 15: This "field trip to the world of God's blessings" takes off via a video that introduces our theme, theme song, and first Bible story! Over the next two weeks you will access activities online. Work at your own pace! Some activities are done as a family and some are for kids to do independently. We will cover four Bible stories over the summer: June 15-26 Jesus Blesses the Children; June 29-July 10 The Parable of the Sower; July 13-24 Do Not Worry; July 27-Aug 7 The Beatitudes.
WHERE: Families participate from home. Many activities can be done outside or on your travels. Each Monday will feature either a new video or an online gathering! If able, we will offer live gatherings (TBD.)
WHY: Because even in challenging times, God promises blessings, if we look for them!
HOW: You will register each participating child, from age 3-Grade 5, who will then receive a tote bag of supplies and instructions for the summer. You will also receive a link to the online files that accompany each activity. There is no cost to register, but you can make an online donation toward the ministry.

Announcements for Children's Ministry, and Children, Youth & Family
Click on the image to read full announcement.
Summer is here and school is almost over! Want some ways to connect with other high schoolers this summer? Check out our blog page and follow us on Instagram @zionanokamnyouth.
read more