Food
Zion Lutheran Church Anoka
Zion's Core Values for Serving guide who we are and how God is calling us to respond.
The core value for food means we serve those who are hungry.
ACBC Food Shelf in Anoka
Three times a year we call for food and monetary support. Website: ACBC Food Shelf.
Family Table (temporarily suspended due to COVID-19)
A community meal is hosted at Zion. The meal is provided the first Saturday of every month at 5:00 p.m. Click on the link to download the Family Table Meal Schedule.
Fare For All Express
Hosted at Zion on the fourth Thursday of the month at 4:00 pm. Fare For All is a wonderful program that allows people in the community to come and shop at Zion once a month for deeply discounted nutritious food. People can receive a meat pack, veggies, bread, and dessert for reasonable prices. During holiday seasons there are special offers such as turkey or ham dinners. The best part about Fare For All Express is there is no proof of income needed.
Emergency Food, Zion's Food Pantry
A basic food pantry is maintained at Zion for those who are in need, in crisis. We can help offer an emergency bag of groceries.
Meals on Wheels
Zion volunteers continue our long-standing commitment to deliver meals prepared at Mercy Hospital to our neighbors in the Anoka and Champlin area. We are in partnership with other area churches and take our turn every 6 weeks. There are 7 routes requiring a total of 35 volunteers each week. Zion volunteers continue to be an integral part of our mission in this community by providing these meals to our neighbors.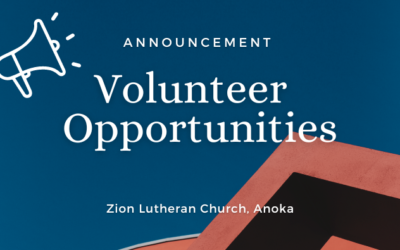 Our next Family Promise hosting date is March 12-19, 2023. Watch for announcements in early 2023 about a new Family Promise Day Center staffing site & static guest house.
read more
Category: Volunteer Opportunities