High School Ministry
Welcome to the High School Ministry at Zion Lutheran Church.
Don't let anyone look down on you because you are young, but set an example for the believers in speech, in conduct, in love, in faith and in purity. 1 Timothy 4:12
EVENT REGISTRATION
Welcome to the HS Ministry Page (Grades 9-12)
Watch the NYG Houston 2018 Video!
CrossWalk Wednesdays
CrossWalk Wednesdays is a time and place for high schoolers to truly be themselves. We encourage people to come as they are, to learn and understand where they are in their faith, and to have a safe and open environment where they feel comfortable talking to their fellow Peers. We invite all high schoolers to attend CrossWalk Wednesdays.
SiCC – Serving in Community Though Christ
As leaders of the church, we invite 8th—12th graders to explore what it means to be a servant leader in Christ, and what it means to live out that call in the community. As a part of SiCC, students are given tools to help them learn more about themselves, and how they can best utilize their gifts so that they can be equipped to lead in all aspects of their community! SiCC team members sign a personal covenant to commit to meeting twice a month, and to commit to being active members in the faith community.
CrossWalk High School
CrossWalk High School Ministry is about focusing on a community and the qualities that make one feel welcomed in a community such as: kindness, open-mindedness, and fellowship. As a community, the high schoolers will have opportunities to live out their faith, serve one another, share their stories, and have a lot of fun in fellowship with their peers. There will be opportunities to go on retreats, organize community outreach projects, attend summer trips such as Camp Wapo, the Boundary Waters, and even places like Nicaragua.
Interested in joining our community? Come and check us out! For more information about High School Ministry and how to register, download the CrossWalk High School Ministry Brochure, check out our blog, or contact Youth Director, Josh Myroniuk at jmyroniuk@zionanoka.org.
Wednesday Night Schedule:
6:15pm – 6:45pm: Dinner
6:45pm – 7:45pm: Programming
Sunday Morning Schedule:
10am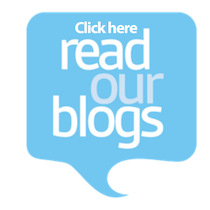 High School Ministry Announcements
Enjoy a delicious breakfast burrito on Cinco de Mayo and support the youth attending the trips to Nicaragua and the Boundary Waters! Burritos will be available for sale on May 5 from 9 to 11 a.m.
read more
All Announcements for Children, Youth & Family
Click on the image to read full announcement.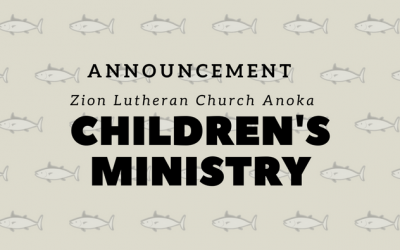 Children who attended in the First Communion class on March 31 are invited to participate in an optional communion bread-baking class on April 17.
read more
Confirmation youth and their families and friends are invited to volunteer at Global Health Ministries on Tuesday, April 30 from 6:30-8 p.m. to help prepare medical supplies for shipment overseas.
read more
Enjoy a delicious breakfast burrito on Cinco de Mayo and support the youth attending the trips to Nicaragua and the Boundary Waters! Burritos will be available for sale on May 5 from 9 to 11 a.m.
read more
Our next baptism class will be held on Sunday, May 5 at 10 a.m. in the Library. To sign up for the class contact Kristine at kjohnson@zionanoka.org.
read more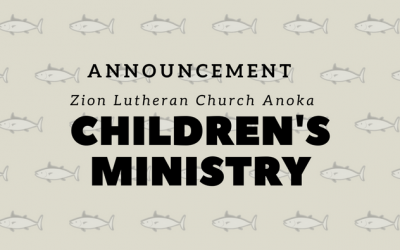 "Little Steps", a new series for young children and their parents and caregivers!  Kids (Birth-K) and parents and/or caregivers are invited to attend on May 15 from 5:30-6:30 p.m. in the Spark Park.
read more
Join us for Zion Family Camp August 11-15 at Camp House (managed by Green Lake Lutheran Ministries) in Brimson, MN near Two Harbors.
read more
Even though the March 15 registration deadline for a guaranteed Zion spot has passed, openings during Zion weeks may still be available. Find out about Zion Scholarship and bus information.
read more
CrossWalk Wednesdays offers activities for Kids Gr K-5, Confirmation Youth Gr 6-8, High School Youth Gr 9-12. Meal starts at 6:15 p.m. with programming beginning at 6:45 p.m.
read more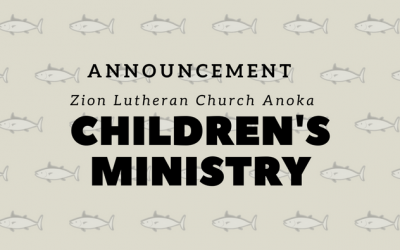 Parents and little ones (birth-Kindergarten) are invited to the Frolic, a parent-child play group that meets Tuesdays from 9 a.m.-12 p.m. in the Spark Park. Bible story and snack at 10 a.m.
read more
SiCC, a leadership program at Zion, is aimed at empowering students to be servant leaders in the community! Interested in SiCC? Pick up an application at the front desk or the CYF office!
read more