High School Ministry
Welcome to the High School Ministry at Zion Lutheran Church.
Don't let anyone look down on you because you are young, but set an example for the believers in speech, in conduct, in love, in faith and in purity. 1 Timothy 4:12
EVENT REGISTRATION
Welcome to the HS Ministry Page (Grades 9-12)
Watch the NYG Houston 2018 Video!
CrossWalk Wednesdays
CrossWalk Wednesdays is a time and place for high schoolers to truly be themselves. We encourage people to come as they are, to learn and understand where they are in their faith, and to have a safe and open environment where they feel comfortable talking to their fellow Peers. We invite all high schoolers to attend CrossWalk Wednesdays.
SiCC – Serving in Community Though Christ
As leaders of the church, we invite 8th—12th graders to explore what it means to be a servant leader in Christ, and what it means to live out that call in the community. As a part of SiCC, students are given tools to help them learn more about themselves, and how they can best utilize their gifts so that they can be equipped to lead in all aspects of their community! SiCC team members sign a personal covenant to commit to meeting twice a month, and to commit to being active members in the faith community.
CrossWalk High School
CrossWalk High School Ministry is about focusing on a community and the qualities that make one feel welcomed in a community such as: kindness, open-mindedness, and fellowship. As a community, the high schoolers will have opportunities to live out their faith, serve one another, share their stories, and have a lot of fun in fellowship with their peers. There will be opportunities to go on retreats, organize community outreach projects, attend summer trips such as Camp Wapo, the Boundary Waters, and even places like Nicaragua.
Interested in joining our community? Come and check us out! For more information about High School Ministry and how to register, download the CrossWalk High School Ministry Brochure, check out our blog, or contact Youth Director, Josh Myroniuk at jmyroniuk@zionanoka.org.
Wednesday Night Schedule:
6:15pm – 6:45pm: Dinner
6:45pm – 7:45pm: Programming
Sunday Morning Schedule:
10am
High School Ministry Announcements
High Schoolers! Jump start your day! Tuesdays 6-7:30 am Dunn Bros in Ramsey or Wednesdays 7-8:30 am at Caribou Northdale Blvd Coon Rapids for coffee, conversation and prayer!
read more
Spots may still be open during Zion weeks at Camp Wapo. Check with camp directly. Click here for information about the return bus to Zion.
read more
All Announcements for Children, Youth & Family
Click on the image to read full announcement.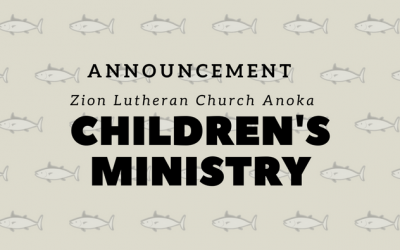 Did you know kids in grades K-2 can read the whole Bible? We're about to prove it with our "Read and Learn" Bible Challenge! Stop by the CYF office to check out a Bible!
read more