Join us for a six-week Bible study as we examine the spiritual lessons learned by six Old Testament women. Mondays at 1 pm and Wednesdays at 10 am. All are welcome!
read more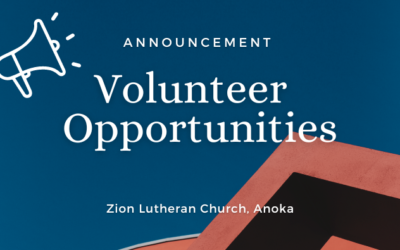 Z-Team is a volunteer program for youth gr 6-12 who enjoy working with kids. Come to training on June 15, 9:30-11 am for more information.
Zion's pickleball group has moved to Rudy Johnson Park in Anoka located at 7th Ave and Polk St. We will play Tuesdays & Thursdays at 9 am. All are welcome.
Need space for your toddler to run off pent-up energy? Join us for open gym playtime. For children ages 0-5 with adult, 9-10:30 am Mondays now through June 26.
Join us for a variety of camps for kids birth through Grade 5. All interested children can attend Zion Kids Camps. Invite your neighbors & friends! Registration is now open!
"Mending God's World"  is a family Vacation Bible School geared to families with small kids. Wednesdays in June from 6-7 p.m. For families with kids ages 0-5 plus siblings.
Registrations for Camp Wapo and Ox Lake are still being taken on a first come first served basis. Register now to guarantee your spot during Zion's week/weekend.
Join other Zion youth on a mission trip to Nashville, TN. We leave July 8 and return July 16. Open to all current high schoolers in 9-12th grade.