We welcome you exactly as God created you.
We worship God with everyone who chooses to participate, including the youngest of God's children who make noise to praise God in their own way.  We find strength in our diversity and strive to be united by our common humanity while celebrating our differences.
We welcome people of all: races, ethnicities, backgrounds, generations, political affiliations, socio-economic status, physical and mental abilities; sexual orientations, gender identities, and their families.
All are welcome and encouraged to be involved in our life together.
"Beloved, let us love one another because love is from God; everyone who loves is born of God and knows God.  Whoever does not love does not know God, for God is love."  (1 John 4:7-8)
(Welcome Statement adopted by Zion's Church Council, October 2022)
Worship
Zion Lutheran is a community with room for everyone, and all are welcome. Whether you're checking out church for the first time or returning after sometime away, we have a place for you. Saturday night and Sunday Morning Services are the main event, and we invite you to join us. Come as you are asking as many questions as you have.
Learn More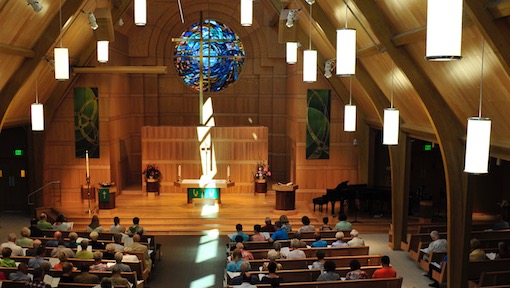 About Zion Lutheran Church, Anoka
Having recently celebrated its 153rd anniversary, Zion Lutheran Church was founded in 1870 as a mission for Swedish Lutheran immigrants. Today, Zion is a faith community of around 3000 baptized members. Each weekend Zion offers four worship services. In addition to in-person worship, Zion also offers live-stream options as well as a weekly radio broadcast. The church's five core values of Welcome, Worship, Grow, Care and Serve define the community's mission and ministry of God's calling to be a welcoming, growing, caring, and serving faith community.
As passionate followers of Jesus Christ, Zion is known for wonderful music, engaging worship, a wide variety of learning opportunities for children and adults, caring ministries, strong youth programs, a deep commitment to the needs of the community, and a strong global mission emphasis connected to Nicaragua and Papua New Guinea.
Community Life
Caring is one of Zion Lutheran Church's core values. At the center of community life is the call for all the followers of Jesus Christ to be caring people. We all live in an often impersonal world. The hope that the Zion faith community has is that we will be a safe, welcoming and caring "third place for you." What do we mean by "third place?" Our homes and work are the first and second "places" where we spend our time. The "third place" is where meaning and purpose is grounded in God and in a deepening relationship with Jesus Christ. The "third place," or local faith community is also where you are cared for and called to care for others.
You are invited into this community of faith, where pastors and members of Zion are here to care for you in all of life's challenges. You are needed here at Zion, to bring your gifts, care and love for others who are in need.
That is what community life as a faith community is about receiving when we are in need of God's love and sharing the love we have been given when others are in need.